Futex time in St Ives
Futex time in St Ives
Second night on the dry dock harbor of st Ives. Every tide is like a washing machine cycle, the boat pitch back and forth for a wile before having a nice moment of stability.
Putting the boat on her legs allow us to check the state of the hull. More and more water gets inside and we need to know why.
The sun and North wind are with us, and we are ready for a deep inspection of our vessel. We have found many more leaking points than other usual caulking leaking.
This leaks probably come from the violent movement of the hull on the lasts navigations. We heard the mast taping and pounding the keel and all structure cracking during some past fight with the heavy local sea.
Also the fragility of the hanger points of sailing in the back have pain to handle with the violent jolts on the rear panel when the wind blows in the sail. Another task done in the rush just moments before our departure.
We have only used Futex to seal the wood, this product is usually used for barrels. It's natural and compatible with food use. It's viscous and fatty, looks like a brown dough. We spend all the tide time to fix the hull as much as we could, only stopping when someone curious enough to speak to us.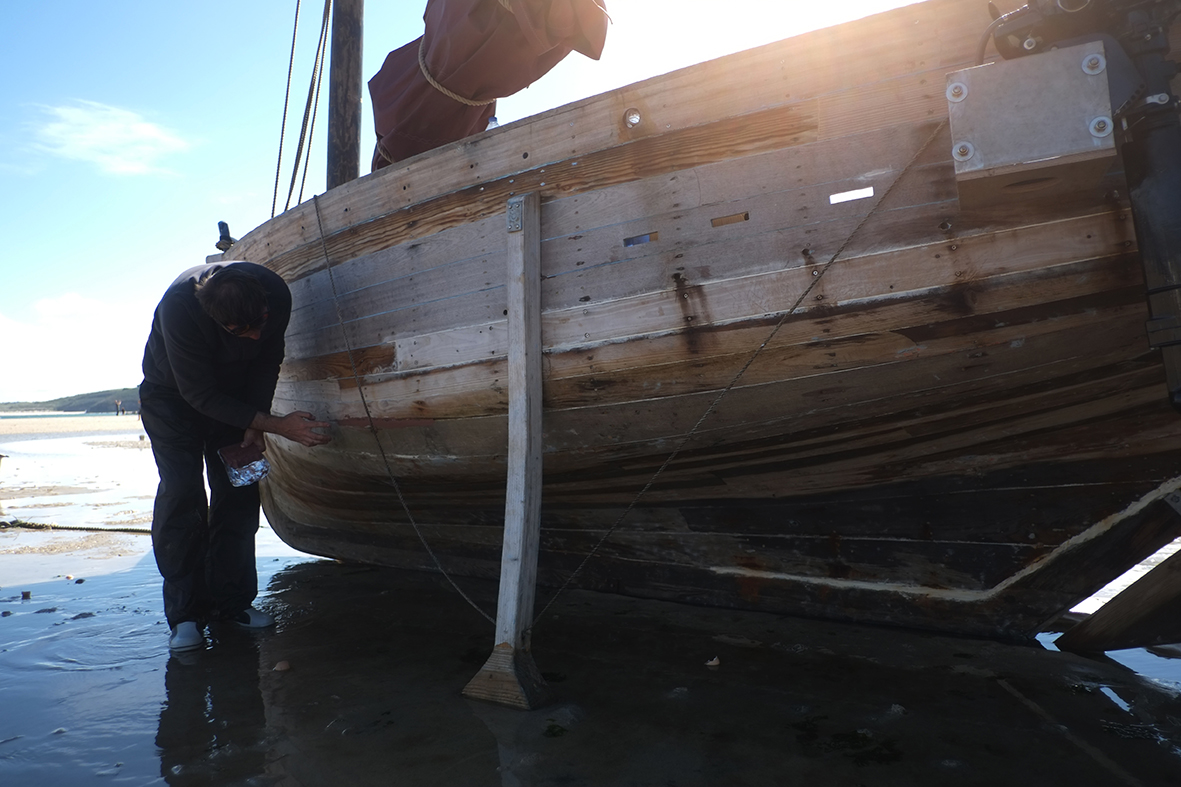 St Ives is a busy place with flows of tourist walking up and down the promenade surrounding the harbor. Sometimes with a melting ice cream in the hand, sometimes fluting from a fancy creators boutiques to a redneck "entertainment center". We are the only pleasure boat on the dry dock so everyone sees us. We had the visit of John, among many others local old rigs lovers, that explained us in details and in French his first trip to Brittany on a sailing lobster boat when he was 15 and his passion for wooden boats.
Sometimes we want to escape from the same chats and discussions about the same topics about going to scotland and transform the hull into barrels. However we understood that our project was really followed by locals, and people already heard about what we are trying to do.
So it is with pleasure that we jumped in our boat when the sea returned to invade the harbor. Alone on our island, covered with that horrible Futex, we were finally isolated.